German enterprises want to invest into Ho Chi Minh City
Secretary of the Ho Chi Minh City Party Committee Nguyen Thien Nhan yesterday received Mr. Horst Pudwill, President of Techtronic Industries Vietnam Group (TTI) and Mr. Horst Geicke, Chairman of German House Ho Chi Minh City to discuss cooperation and investment opportunities in the city.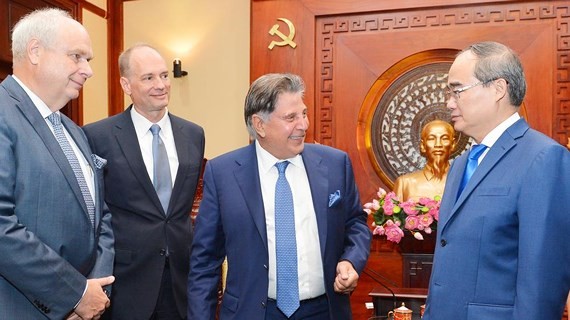 Secretary of the Ho Chi Minh City Party Committee Nguyen Thien Nhan receives German enterprises (Photo: Viet Dung)
At the meeting, the President of TTI Vietnam presented TTI project at Saigon High-tech Park with a cost of US$ 650 million which focuses on manufacturing hand-held power tools with integrated technology for designing and manufacturing control devices, power electronic transformers for the power industry, mechanical engineering and the Internet of things.

Besides that, the partner also wanted to open a vocational training school worth EUR€ 22 million, equivalent to more than US$ 24 million, in District 9 and planned to build the second German House in Ho Chi Minh City.

Mr. Horst Pudwill appreciated mutual cooperation relations between the two countries during past ten years; and he desired to continue receiving more and more assistances from the city's leaders in future investment projects, contributing to promoting Germany-Vietnam relationship in general and Germany – Ho Chi Minh City in particular.

City Party chief Nguyen Thien Nhan praised investment plans of TTI and said that these projects would contribute to creating high-tech products, improving R&D quality and developing human resources for the city as well as Vietnam.

Additionally, he also answered some questions of the German enterprises regarding the TTI projects such as the ratification process of technology appraisal, cost of renting land, registering the export processing enterprise in the high-tech parks.

The city leaders always pay much attention as well as bring favorable conditions for foreign businesses and investors including TTI, affirmed the city Party Chief.